27. Mai 2021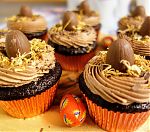 Mid 2021. Almost 1.5 years have passed since we moved to Switzerland. Connie has seized the chance to create a new venture during challenging times, turning what could turned crisis into opportunity by starting her very own cake shop. I cannot help but write a few words on that journey.
First, you will only know what I am talking about if you head over straight to www.connielovescake.com and check out at least a few pictures of the cakes & cupcakes! Done? Right. Now you know. But I know a bit more. Particularly, how Connie got to the place from having just moved to Switzerland to running her own little shop, selling homemade rustic cakes as she puts it.
It's a journey as I said already. Most journeys that are worth taking aren't the ones that are easy. Instead, the journeys that are worth taking are the ones where we need to overcome obstacles. Connie has overcome plenty of obstacles so far: how to sell home-made cakes without delivery, how to pack cakes safely for take-away, how to properly register with the authorities, how to start a small business in a country where one is still new, how to ensure that one's passion for the art of baking meets the customers' needs, how to teach oneself and thus get better over time. There is just a lot of it and I am just scratching on the surface.
I wouldn't be honest if I said I weren't proud of what Connie has achieved here, and if I said I weren't curious on what she is up to in the future. Now, if you haven't done already, head over to www.connielovescake.com and check out the cake selection. For every word I am writing here possibly delays you from getting the your dream cupcake─if you're lucky enough to live nearby.
Photo (credits & copyright): Connie Loves Cake.