17. August 2014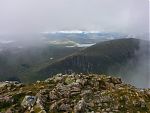 A recount of a hiking trip into the wilderness of Scotland: on ex-hurricanes and their effects, suicidal drivers, famous spots from the literature and the movies, a town nicknamed Lang Toon and on the festival time in Edinburgh.
I have never been to Scotland before. This has changed after recently having spent a week with hiking boots and tent to discover the wilderness and the mountains of the Scottish Highlands. While I am convinced that humans are quite waterproof and do not corrode, the weather still plays an important role during such a trip.
Day 1: From Glasgow to Glen Etive
Driving up the A82 from Glasgow towards Glencoe through Rannoch Moor (to an ignorant like me, this sounds like a place from the Lord of the Rings), I already regretted the decision to drive rather than to ride a train through the spectacular scenery on a day with almost completely blue sky. Also, the drivers up there speed crazily, and to make it worse, a few drive in the middle of the road for absolutely no reason, forcing other traffic participants such as me to slam down hard on the brake and drive off the road to avoid collision. Not fun. End of rant. It'll be the train next time.
Day 2: West Highland Way to Glen Nevis
We made first camp in Glen Etive, aspiring to walk up Ben Starav the next day. However, we were denied by the tail end of what was Hurricane Bertha. Heavy rainfall and strong winds let us change our plans and we drove to Kinlochleven where we walked the easier-to-walk and quite popular West Highland Way to Glen Nevis instead (something around 24 kilometers). The rainfall and the stormy weather reminded me of the encounter with Scotland in the James Bond movie Skyfall. Here is parts of the lyrics that I recalled from the movie's theme song:
Let the sky fall
When it crumbles
We will stand tall
Face it all together
It was not as bad though as the section of the West Highland Way from Kinlochleven to Fort William is not as exposed to wind. Putting all equipment into waterproof bags inside the backpack turned out to be an invaluable decision, as the rain cover of the backpack only keeps water off rudimentarily. Arriving in Glen Nevis, choosing a tentsite well above the river seemed to be a wise idea. After all, rivers in the mountains can swell during and after heavy rainfall.
Day 3: Over the Mamores
On day three, it was time to apply a trick I learned in Sweden from ice-skaters (SSSK): wrapping your feet in plastic bags to protect them from soaking-wet and cold boots. The two systempåsar I used for that purpose (easy-to-recognize plastic bags sold by Systembolaget) worked quite nicely even though I wished I knew some trick to dry the hiking boots overnight instead.
We chose to return from Glen Nevis via the Mamores to Kinlochleven. The Mamores are a group of mountains rising north of the West Highland Way between Kinlochleven and Fort William. The trail went up scenic waterfalls at Allt Coire a Mhusgain. Strong winds forced us to be extra careful on the summits of Sgùrr an lubhair, Am Bodach, Sgùrr an Fhuarain, and on the ridges between them. Occasionally, we were granted fantastic views towards Loch Leven, but Ben Nevis remained in the fog. We did not meet a single soul during the whole trip. We avoided the Munro Stob Coire a´ Chairn and descended on its southern flank towards Kinlochleven.
Day 4: West Highland Way to Glen Etive
Rainfall continued and we decided to walk the highly-frequented West Highland Way from Kinlochleven southwards towards Kings House (around 16 km), and look out for hills that can be climbed on the way. Stob Mhic Mhartuin was such a hill, but strong wind did not invite us to stay long. After descending the Devil's Staircase, we walked into Glen Etive once again to find shelter for another night out in the wilderness.
Day 5: Buachaille Etive Mòr
Lesser wind speed and clearing up skies let us hike up Stob Dearg on Buachaille Etive Mòr. This is a popular mountain with epic views towards Glen Coe, Glen Etive, and Rannoch Moor. The trail went up Coire na Tulaich, with a light scramble before reaching the saddle. The side trip to the summit of Stob na Doire turned out to be worthwhile as well. As I found out afterwards, Stob Dearg is featured in the Skyfall movie, too (I like to discover places I know in movies, but I don't go to places because I know them from the movies). We hiked back to Kinlochleven on a quite sunny afternoon.
Day 6: Ben Nevis and Loch Tay
The exception that proves the rule, we stayed in the Youth Hostel at Glen Nevis instead of using tents, grabbing the last remaining available spots. Ben Nevis wasn't really a mountain we planned to go up but it happened to be in front of us. The journey up and down took us about 3 hours and 45 minutes, this time (for a change) only carrying small backpacks with the essentials, leaving tent and alike behind. The summit was stuck in clouds, so the views weren't as good as those from the Mamores and from Buachaille Etive Mòr the days before. It also became apparent that Ben Nevis is climbed by some of these stupid idiots that leave their trash behind, making Ben Nevis not only the highest mountain but also the highest landfill of Scotland. On the afternoon, we drove towards Loch Tay, which happened to be conveniently on the way towards Edinburgh, thereby shortening the journey back.
Day 7: Ben Lawers, Auchterarder and Edinburgh
On the last day out, we went up Ben Lawers (again only lightly packed), which is (another popular) mountain. It offered fantastic views but suffered too from crowds, which we fortunately mostly avoided by walking up rather early in the morning. In the afternoon, we were to find our way back to Edinburgh, taking a break in Auchterarder, a town interesting to me because of family history. The time to visit Edinburgh was perfect – festival time, so we could enjoy some street art and plenty of people around to enjoy the windy summer breeze of Edinburgh, a city that made quite a good first impression.
As a conclusion, I found Scotland to be an awesome place for hiking. It requires more skills in terms of sleeping out in tents as it was the case in Sweden. When returning in future, the experiences gained on this trip will help find and walk lesser-walked paths and mountains.