18. Mai 2015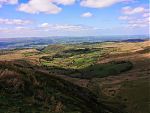 Panoramic views on a scenic route through the Black Mountains in Wales. This challenge, organized by the Longtown Mountain Rescue Team, was worth every step that was needed to complete the 50 km hike. We arrived tired, but happy before sunset.
For the 30th anniversary of the Big Black Mountain Challenge, the Longtown Mountain Rescue Team decided to extend the A route to 50 km. Challenge accepted. Thus, we made our way to Wales and prepared on the evening before by enjoying a very nutritious pub dinner (where I learnt that you get fries as a side dish when ordering lasagne). On the next morning, our group of five hikers started a little bit later at Llanthony Priory than many of the other participants; after all, a good night's sleep is worth every minute.
The weather was sunny, which is not exactly granted in this part of the world as I was told. Blue sky and few clouds. So my rain trousers and my hard shell could stay where they were – buried deep in my lightly packed daypack. An estimated 800-900 hikers in total were on their way on three different route. This meant that after a while the hikers dispersed and it did not feel like a crowded city run, more like a rather lengthy hike. Surprises were pre-school children walking 15 km, and also more senior hikers walking briskly for the whole 50 km.
The checkpoints along the route were an example of the excellent organization – I would not have expected otherwise from a mountain rescue organization. But nevertheless, chapeau, and thanks for that. With mobile antennas, tents, thick and apparently warm jackets, the volunteers from the mountain rescue team waited for all the participants to pass by.
As with all kind of long-distance exercise, this hike was also an exercise in nutrition. Countless cereal bars, wine gums, chocolate, apples, and sandwiches later we arrived in the finish about 11.5 h after we left, and after being on the move for more than 9.5 h in total. Clearly, we were very happy to see the pretty ruins of Llanthony Priory showing up.