10. April 2013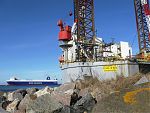 Thirteen years passed before I returned to Denmark for a couple of days. In short: good friends, interesting history, and delicious food.
I took the train from Stockholm via Copenhagen. To my great delight, a Danish friend and former exchange student at Technische Universität München took the efforts to show me around in Copenhagen before I continued via Fredericia to Esbjerg. Reaching Esbjerg revived old memories from a trip to the same place when I was half the age I am now. Thanks to the hospitality of the fantastic Danish friend I met there, I was equipped with good company, shelter, access to a car, and local insider info. All fellow travellers out there will probably know to appreciate having access to excellent company, accommodation, transportation, and information.
Esbjerg is a comparably young seaport municipality in the very west of Jutland. The city and its surroundings such as the town Ribe have a long and rich history of fishing, trade, war and peace. This became clear after walking through the seaport of Esbjerg, visiting the Fiskeri & Sjøfartsmuseet and all the explanations provided by my Danish friend.
Luckily, the Fiskeri & Sjøfartsmuseet featured a special exhibition about how the city and especially its harbor changed over the one-and-a-half centuries of their existence. Following the loss of Altona in 1866, Denmark established a new seaport in the west of Jutland. With the seaport, a city grow which is now the fifth-largest in Denmark: Esbjerg. The harbor has gone through a transformation since then, and now fishing has been replaced by oil, gas, and other offshore business.
Typical for German travellers, one never gets to a place where the Germans have not been on some abominable mission before: there are old bunkers and other fortifications from World War II everywhere along the coast-line which were part of the Atlantic Wall. One of the bunkers (according to the museum, there are almost 450 more of that specific kind in Denmark) is accessible to the public and can be found in the outdoor part of the Fiskeri & Sjøfartsmuseet. Economically, the fishers had a good time during World War II whereas the resistance fighters in Denmark had not – I was told a personal story which left quite some impression on me.
Nowadays, fishing does no longer play a big role in Esbjerg, and the famous fish auction hall remains only an attraction for tourists. Instead, oil rigs that are pulled into the harbor for maintenance have become a common sight in Esbjerg, as well as the rotor blades, symbolize the offshore business that has taken the place of the fishing trade.
Apart from meeting friends and delving into the rich history, I found especially delight in tasting Danish food. I was treated by delicious a rye bread with egg, shrimps and lemon in Copenhagen. Snacking fiskefrikadeller in Esbjerg's harbor. Tasting peppermakrel together with some more rye bread. Fine meat with brown souce and caramelized potatoes. I have seen (not eaten, what a pity) some fine-looking Sunday breakfast. Lesson learned? Yes, Denmark features its own cuisine, and one that is definitely worth trying.