20. September 2014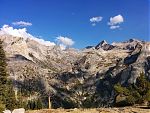 It was my first four-day hiking trip in the wilderness of the Sierra Nevada in the Sequoia National Park (California). This is a recount of my experiences and a descriptions of the lessons I learnt while carrying my backpack with food and shelter over segments of the High Sierra Trail.
Before planning the hiking trip in the Sierra Nevada, I had hardly an idea of what I would expect. I had some previous experience in other regions such as the Alps. But every mountain range has its own characteristics, calls for different kind of preparation. Is there water? Are there wild animals? Does anybody live there? Is it steep? Are there trails? How many people will you meet along the way? And yes, there are many more questions.
Sequoia National Park and the route
The Sierra Nevada is an over 600 km long mountain range running from north to south in California. It is home to Yosemite, Kings Canyon, and Sequoia National Park. We decided to hike on the High Sierra Trail in the Sequoia National Park. The classic route would be to walk from Crescent Meadow the whole way to Whitney Portal, and climb Mt Whitney. We hiked only on the first parts of the High Sierra Trails and added some spice to the tour by making a side trip to Lake Tamarack. Our party occasionally split to cater for different interests, but since we were not attempting a thru-hike, this was feasible. Deviating from the original aspirations, here is where I ended up on each of the four days:
Crescent Meadow – Bearpaw Meadow
Bearpaw Meadow – Kaweah Gap – Hamilton Lakes
Hamilton Lakes – Lake Tamarack – Bearpaw Meadow
Bearpaw Meadow – Panther Gap – General Sherman Tree
Challenges
We faced a few challenges during preparation and during the trip. Clearly, being in the wilderness without having a place to sleep and without having a place to buy food and drinks is one of them. Having to protect your food from bears is another one. Coping with the heat and altitude is a challenge, too. Navigation needs to be thought of as well.

Food
When walking in the mountains for a distance of at least 60 km in four days, food is one of the first things that comes to my mind. We went shopping in the Whole Food Market, which was definitely the best supermarket I have seen in the US so far (along with Sprouts Farmer's Market). Except for one bag of dried chicken gumbo, I conveniently got all my food from Whole Food Market. I won't make an extensive list of what I bought, but given that it becomes apparent how much you eat when having to carry food for several days on your back, it is worth pondering.
Oatmeal made a fantastic breakfast. Mixed with some trail mix and milk powder, around 90g of oatmeal per serving worked well for me and just fit into one of the 1.0 litre saucepans of a Trangia 27 UL. Easy to prepare, nutritious, healthy and relatively compact to carry, I was really happy with this.
Trail mix was my trueful friend. Although it looks like trail mix sold in the US (or just California?) has M&M's in it, I just opted for having one with nuts only. Some habits don't change. Quite versatile as it can make the oatmeal more interesting, is easy to split into portions, nutritious and relatively compact, too.
Chia seeds are not only tasty but they were a good complement for the oatmeal, and in the lack of oatmeal they can be eaten as well. Nutritious, pack compactly, I think they will also become a part of my food supplies for hikes in the future.
Cereal bars fit nicely into the front pocket of my backpack and are well-suited as snacks along the way. I can eat them without having to stop and have my comrades wait for me. I was happy with my choice of Clif Bars; especially the Clif Builder's protein bars silence the stomach for quite some time.
Pumpernickel is dark German rye bread, nutritious, not loved by everyone outside Germany. But I found an exported pack of Pumpernickel in the Whole Food Market and got terribly excited. I was happy in so far as they tasted great, but I think it was the heat that caused the last two slices to show first traces of mold on day four. I didn't have trouble with this kind of bread in Scotland but I am unlikely to put it on my shopping list for another hike in the Sierras. Although nutritious, it wasn't one of the lightest and most compact options available either.
Peanut butter turned out to be a very effective: it's compact and after eating a few spoons of peanut butter, I'm definitely no longer hungry. It coped surprisingly well with the heat. To my delight, Whole Food Market (no, I don't have any affiliations) had a machine that allowed customers to make their own peanut butter.
Cheese Maccaroni are not the fanciest of all dinner options, but they are easy to cook, don't make too much of a mess, are relatively easy to carry without unnecessary packaging, and are okayish to eat when decorated with a few spices.
Chicken Gumbo was an experiment: my first freeze-dried dinner I ate. It was surprisingly good, something that probably can be attributed to me being hungry, and having very low expectations. Easy enough to prepare.

Water
One of the things that varies wildly from region to region is the availability of water. In Scotland, there is an abundance and in the places we walked, it was rarely necessary for me to carry more than half a liter of water at all times. In the Swedish fells, water is available everywhere, and can actually become a serious obstacle.
However, California is currently in a drought, precipitation is far lower and the expected temperature in September is quite warm. Many of the creeks in along the trails we walked were dry. It was not too difficult to get water, but it was good to refill early. The National Park Service recommended the use of water purification systems, and everyone we met used some method to treat water. I don't know how important that really is but some extra caution did not cost us too much. I used water purification tablets, which were light to carry and simple to use.
Bears
There are black bears in the Sequoia National Park, and caution needs to be taken even though the bears appear mostly to be interested in the food one is carrying around. The tale of bear #583 explains why protecting yourelf and your food from the bear is not only to your own safety but also to the safety of the bears.
We carried one bear canister and otherwise took advantage of the food storage boxes at our campsites. The food storage boxes seemed to be quite reliable and offered enough storage room on our trip. The food storage boxes as well as the bear canister have a bear-safe opening mechanism. The upside of bear canisters are that you do not have to depend on the food storage boxes, and have more freedom to roam. The downside is that they are pretty heavy and bulky (well, "bear-safe plastic" cannot be too light and thin, I assume).
And indeed, we saw several bears. One strolling along the curb of the road, seen from the car. Then, at one campsite, one of my very observant fellow hikers spotted two bears just across the lake. I have to admit that it adds a bit of spice to the evening before having a good night's sleep when bears are strolling a few hundred meters away. Good to know that the black bears generally don't attack human (read here for more.

Equipment
Hiking boots: I had a pair of very decent hiking boots from Lowa. Unfortunately, the leather bust open where my feet are the widest. First, I thought about attributing it with material failure. However, it turned out that the shoes weren't wide enough for my feet, which after several miles of walking started to swell. Lesson learnt: buy wider shoes, and account for additional swelling during the hike. Fortunately, the shoes kept their shape somehow so I wasn't stuck with a pair of broken hiking boots in the middle of nowhere. I brought two pairs of socks, changing and washing them at noon – a helpful trick from Andrew Skurka.
Tent: my 3-person tent (Hilleberg Anjan 3) just for myself was certainly overkill in terms of size. But I knew that it was reliable and did not have the time nor the intention to spend money to get a smaller one. I often had difficulties to drive the pegs into the rocky ground, so a shelter coming without the needs of pegs would have been useful.
Clothes: I used the typical three layers. I opted for a long-sleeved quality shirt from Haglöfs. This was a good choice as it allowed me to protect my arms from the sun (and potentially mosquitos, but there weren't any) whilst it was easy enough to roll up the sleeves. The fleeze and water/wind protection layers were indeed useful, particularly when star gazing at night. The nights were surprisingly warm though.
Camping cooker: There might be lighter or fancier variants, but I just brought my Trangia 27 UL which I could share with my two fellow hikers. It is simple to use and is the kind of cooker that just works. Unfortunately, I allowed one of the matchboxes to get wet – a single point of failure if I hadn't brought a spare one with me, so next time I will protect my matches even better from any moisture.
Backpack: Choosing a backpack is a difficult decision. Since I lacked a suitable backpack for a multi-day hiking trip, I bought a new one. It was close, but I managed to fit all my equipment except the water bottles into a GoLite 50L Jam frameless backpack. Having no frame only works if the backpack isn't too heavily packed. Which it wasn't, even though I think there is plenty of room for improvement to strip away more weight without necessarily stripping down much comfort, convenience, or safety.
Navigation
I only had a relatively coarse map (National Geographic 205 Sequoia / Kings Canyon, 1:80,000), plus another map of roughly the same scale. They were insufficent for any tactical navigation (pathfinding). Since the High Sierra Trail is a sign-posted trail, it was sufficient. Yet, I would really have preferred a finer-grained map. A map with more detail makes it much easier to estimate distances and current location (e.g. by triangulation). Once I would go off the more popular trails, I would definitely opted for a more detailed map.
Conclusion
Thanks to my fellow hikers. Let the pictures speak for themselves.