27. Mai 2015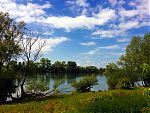 What started as a joke turned into reality on a bank holiday weekend: A bicycle ride from London to Paris. Well, to be exact, we skipped the part from London to the channel and started in Dieppe.
The journey started with a ferry-ride from Newhaven across the Channel to Dieppe. Of course, we weren't the only ones with that idea, and a crowd of bicyclists left the ferry. Equipped with lights, we made our way to a B&B in this quiet coastal community. But the very next morning, we only saw very few of our fellow ferry passengers on the bike path (Avenue Verte) towards Forges-les-Eaux. Not very crowded.
The Avenue Verte deserves its name. Over large parts, it is a bicycle track on a former railway track. It is very funny to see the old railway stations still in place, or even to be converted to a restaurant. At Forges-les-Eaux, my buddy (and expert navigator) and I left the Avenue Verte for a detour towards the River Seine. A very scenic route led us along the river upstream towards Giverny, where a tremendous queue for Claude Monets home (on a sunny Sunday) suggested that a stop at the Pizzeria would make more sense in these circumstances.
The weather was playing along and the Normandy turned out to be an exceptionally nice place for cycling. The scenery is fantastic (white cliffs, rivers, fields, villages, forests, caves, castles), the roads weren't very busy, and we were only overtaken by maybe two lorries over three days. Positively suprised! And last but not least, there are various campsites along the way to choose from (France does not have a freedom to roam, so we could not pitch our tents anywhere).
For the return trip from Paris to London, we took the Eurostar. The bikes have to be handed in and can then be collected in London St. Pancras. With lots of reflective material and lights on my bicycle, the cycle through London back home was more comfortable than expected – maybe also because there was little traffic around the time. All in all, the around 290 km of cycling were well invested.