5. Februar 2019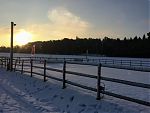 Postcard-Britain! The 66 mile race course took me from Farnham over the very pretty & snow-covered North Downs, until the snow subsided and was replaced by mud, past Box Hill until Redhill and back the next day. This post is about the madness that is required to enjoy such an adventure, and the odd things that you might encounter.
Sane or insane
- He: "How many of you are insane?"
Many hands showing.
- He: "How many of you are sane?"
Very few hands showing.
- He: "How many don't know?"
A few hands showing.
- He: "You're all insane."
That's about the words given by to us the farm owner who kindly permits the race organisers and the runners every year to start on his property. I guess we take it as a compliment. But at the same time, I feel that these words capture some of the essence of ultra-running─running for pretty much no other purpose of running.
What snow chaos looks like
Snow chaos was predicted in the news. What we actually saw was just a nice layer of snow and pretty scenery. We're promised some mud by the race director before setting off at 9am in the morning. No mud to see just yet. The scenery is "postcard Britain". Snow over the trees, snow on the ground, and snow over the hills.
But there's no chaos, just a bunch of insane runners who are planning to run 33 miles on the North Downs Way from Farnham to Redhill with more than a 1,000 meters of total elevation gain in between. And then on the next day back.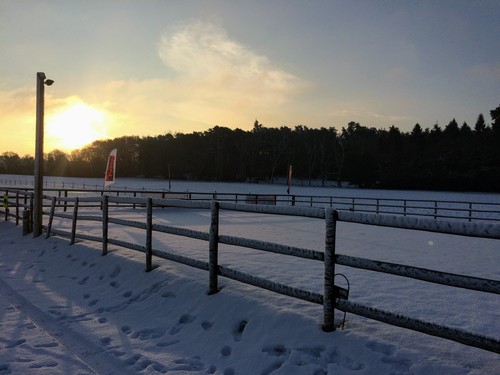 Pillboxes and Shooting
We run past golf courses (not news, I always run past golf courses, but this time they are even emptier than usual), across fields, through patches of forest, past pillboxes while enduring the incredibly annoying thunder of the guns of some Clay pidgeon shooters or similar. At least this time, there were no little pieces of clay raining down on me as it happened to me on a different event.
Straight through the mud
There's less shooting on Box Hill and beyond, but there's more mud. The staircase leading up Box Hill is full of mud. It is a cascade of mud. Strangely, over all these miles, I never lose balance. I am not quite sure whether I should attribute it to the grip of my trail running shoes, or whether I have improved balance since running in mud the last time.
Let me tell you a secret. The fastest way to run when it is muddy is usually through the mud. That's because running in a straight line is quicker than trying to avoid the puddles by zig-zagging around them. It's also often safer because by staying on a straight line, you keep your momentum in the same direction, and are less likely to slip and lose balance.
The downside of running straight through the mud however is that your shoes─and actually feet─are going to get muddy, and on this day also wet and a bit cold. But I still claim, it's faster to go straight through the mud. And it requires less thinking, which is good, because all mental power will be needed to keep going after a few dozen miles.
It's a one-sided slope
After arriving at the finish of Day 1 after 53km in 6:14h, I get a brief sports massage. This is an excellent investment of £15 for it will make a huge difference on the day to come. The massage therapist tells me that my left leg was in worse shape than my right. I am pretty certain that this is because a lot of the North Downs Way is sloped in the same way when running eastwards, meaning that my left leg is higher up and my right leg lower down. A couple of days after having run back on the same trail in the opposite direction, another massage therapist reports that my right leg was in worse shape. A strong reminder to run on different routes to avoid assymetries.
Mind over matter
Day 2. Race organiser Neil reports that some of the mud has gotten more solid, but who knows what might have happened to the snow further on. But no matter what the conditions are─actually it is a beautiful sunny day─the thing that matters is the mind. With every race, it becomes clearer to me that what has often been said about ultra running is true: mind over matter.
Willpower is what keeps you going. I feel I still have potential. Of course, I imagine that I have iron willpower. But the truth is slightly more ahem… complicated. It's so tempting to slow down, it's so tempting to walk. This is where the lessons from mindfulness, self awareness and self regulation come in handy. And today, in my third multi-day race, I am running all the flat bits and the downhill bits that aren't too steep. No walking on the flat bits. While that is of course totally acceptable, it still is a major personal victory.