21. September 2021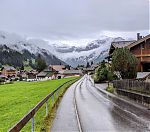 Punishment. Today's theme is voluntary punishment. The last stage of this footrace is framed by rain and snow. After two days of sunshine tralala, the adventure gets a new facet. Impressions from Day 3 of the Swiss Trail Tour.
The weather forecast has changed. It's snow above 2000m and rain below that. The organizers have adapted the route accordingly, shortening it by 6k. Actually, that means less punishment. And it's the responsible thing to do. And it's the right thing for me because despite of having packed gloves and a beanie, these aren't suitable for such wintery conditions.
My trousers are soaked. For once I'm not the only one with long trousers, so I don't stick out as much as on the previous days. Not sticking out from the crowd doesn't turn me into a veteran trail runner, however. Waterproofs wouldn't have been wrong, but if it gets too comfortable, you spend less effort on running hard to keep yourself warm. I do like the idea though of having a down jacket, a mid layer, and a rescue blanket (which is part of the required equipment, but why would you miss out on that one anyway). If my energy drained I could whip out two layers from my bags and be reasonably warm.
Climbing up the slope of the mountain is harder than on the previous two stages of the race. My legs are certainly feeling it and I don't push myself to the same heart rate as on Friday and Saturday.
People overtake me and while I know that I should run my own race, particularly at the beginning, it's not exactly motivating. But I get myself together, play a few rounds of 100 steps running and 100 steps hiking. Eventually we get closer to the highest point of the race. Something to look forward to?
Something to look forward to?! Not really. Snow is falling. A thin layer of slush forms on top of the already soaked grass. Slosh slosh slosh. Every step presses some ice cold water into my shoes. The only solution is to press on. Slosh slosh slosh. Now come the puddles. Not the tiny puddles that little children seek out even though they had several ways to avoid the puddles. No, pools of water. Slosh slosh slosh. Right through the puddles because there is no alternative. It's fun for kids so why isn't it fun for me?
Fun yes. In some sense. I mean we're all here voluntarily. Ooh that feeling of cold water bath. But we're at the top. Finally. But that's not really a comfort because now we're facing a downhill section. The trail is wet, full of stones and obstacles that invite you to trip over them. I decide to walk and ignore my fellow runners who either have better technique (likely), more strength (likely), more confidence (also likely) or are a bit foolish in their speedy descent (not unlikely). That's cool. I have time. But the slower I move, the colder I get.
To warm up, I adopt new race tactics. I keep walking downhill at snail's pace. But on longer flattish sections, I push hard, closer to 10k pace. This works surprisingly well and also allows me to catch up with runners I thought long gone ahead of me.
I wonder how the marshals manage to stay warm. Sure they have an umbrella and thick jackets. But for me they are the heroes of the day. Not the runners, it's the marshals. They hold out there for hours, giving every runner their support. Thank you marshals.
We're reaching Iffigenalp and the last checkpoint. That's about 8k to go. To stop or not stop at the checkpoint? It's always a good question. Today I have plenty of water, am not sweating as much, and 24k don't really make me want to eat a lot either. So I skip the last checkpoint and down it goes.
This stage is a bit more suitable for my lack of downhill strength and downhill technique. Less roots and more roads and gravel paths. Such surface requires less careful foot placement, something that is made me difficult because I can't see through my glasses in the rain, and I'm not used to run without my glasses either. Roads and even gravel paths also put less demand on the muscles that stabilise the body, and keep sideways motion in check.
Require less careful foot placement? Did I just write that? Well, there is a point where I'm unsure whether to turn left or to cross the bridge. A runner behind me helps me out and shouts that I need to cross the bridge. Exciting, I am not going to get lost. Not all that exciting, because before I know it, I'm firmly planted on my back. The wooden bridge was really slippery. Surprise? Not really, our race organizers repeated the warning multiple times that wooden bridges are particularly slippery in wet conditions, especially when combined with muddy shoes. Oh well, briefly distracted by pathfinding and–swoosh–all of a sudden you're no longer up and standing. What an irony, after all that extra careful hiking down wet trails, I slip mindlessly on a wooden bridge.
There is no further excitement on the last few kilometres. I overtake a few downhill experts who prefer the steep descents over the flat sections. Everyone playing out their strengths it seems. I meet a few schoolchildren. One of them decides to race me for a few lamp posts. The kid wins. But I still have a few hundred metres to go.
In the finish, my number one priority is to swap into my warm clothes that I deposited. No need to add to the self-inflicted punishment by freezing on the way back to my accommodation.
Oh well that's it. My three day adventure on the Swiss Trail Tour in Lenk, Simmental is over. 86 kilometres, 4300 metres elevation gain, and 10:43 hours in total over three days. Wicked.
Other articles in this series: