26. November 2018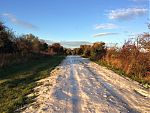 A comeback to the world of ultra-running. This time, I ran (and walked) the Ridgeway from Tring to Swindon in three days as part of the XNRG Druid's Challenge.
How again did I end up signing up for this race? I reckon this is an fairly common question for a runner to ask, and mind remind you of the common thread in the Matrix: why are you here?
Truth is that I had originally signed up for another, shorter, less undulating two day race—the Pony Express—and then swapped due to a conflict in my schedule. Why had I signed up for the Pony Express in the first place. Because I wanted to ease my way back into ultra running.
Why that? Well, you know… Love a challenge. Love the single minded goal of getting to the finish, as fast as possible. Just that. Run. A job that's refreshingly simple to explain while challenging to finish. I love such problems.
So here I am at Tring (UK) at the race registration on Day 1 (Friday). My training was sadly rather poor for the previous three weeks. Training consisted mostly of traveling to the West Coast in the US, come back less than a week of the race, and run only once for 8km to remember what running feels like. Not exactly the way I wanted it to be. But well…
The XRNG Druid's Challenge is a multi-day race with three stages covering 84 miles of the Ridgeway in total. At registration, I discover that I am in the start group of "elite runners", apparently because I was a bit ambitious with my time estimates when I had signed up. This makes me feel uneasy. I'd rather start in the "runners" group an hour earlier, and fortunately the race organisers offer to move me into the "runners" group because on Day 1, there aren't any implication on the logistics. Having obtained race number 1 for probably no other reason than surname or time of registration, I am transferred with the other participants in my group to the start at Ivinghoe Beacon.
The start of the race is a refreshingly simple procedure. A few group photos are taken and before I get the chance to tighten my shoelaces, the signal to start is given. No fancy guns or horns, a few words do the same─everyone knows that they are at the start in order to start running anyway. I am briefly confused because I don't know which way to run from the start, but I follow others to get on the Ridgeway.
The Ridgeway takes us through Wendover and Wendover Woods. Both places are familiar to me from different events I have done past. We jog up the road in Wendover where runners traditionally run down like crazy at the start of the Country to Capital race, contine through Wendover Woods. At some point, in a tree-lined section of the Ridgeway full of autumnal colors, I meet two other runners. One of them points out that we'll now come over stiles with a CCTV camera. That's a first for me. It turns out that Chequers Court is on the route. I dryly comment that this is a good reason to run [away] a bit faster.
I finish the 29.3 miles (47.2 km) in 5h 14min, which was a bit faster than I expected─and as I should find out the next day, faster than I should have been. We stay in Icknield Community College. Since I'm early in the finish, I can claim one of the mats lying around in the gym─that's where everyone who hasn't booked into a hotel is sleeping.
Day 2 (Saturday) starts with tired legs. It also starts out with the race director organizing a birthday song for me, which is nice. And also makes people greet me with "Hello, Birthday boy" for the rest of the day.
On Day 2, I'm starting with the "elite runners" because of my finish time on Day 1. Well, yet another reason to slow down a bit on Day 1. Soon after the start, I notice that I have to let my fellow runners from the previous day go ahead─I won't be able to keep up.
Things work well until Checkpoint 2. But I'm having a difficult time on the section from Checkpoint 2 to Checkpoint 3. I pass the River Thames─I've never seen it so far upstream─on a bridge in Goring. I curse Goring, partially deserved for its lack of pedestrian sidewalks, and partially undeserved because I'm tired and not covering a lot of ground. Rain comes in and I'm glad I packed well─waterproof, gloves, buff, beanie. Perfect day out on my birthday? Walking in the rain without anyone else in sight, lacking motivation and/or strength to use my beaten quads. And so the road continues, it's a long walk. Checkpoint 3 is a relief, and I learn that the last section is much shorter than the previous section. The finish in mind, I'll find some strength again and run most of the way to the finish. 26.6 miles (42.8 km) done in 6h 38min.
We're staying in a Didcot Leisure Center. It's Lasagne for dinner today, which makes me happy. Lasagne is my favorite post-run food, and I actually have a full drawer of Lasagne in my freezer at home so that I have something to look forward to once I finish this event. I take quarters with another runner in one of the squash courts, and thus avoid the main hall of the gym. However, later I should find out that there is a motion sensor in the squash court which will turn the light on. The light itself is visible from the main hall. Other runners must have cursed us. But if you pack smart, you'll bring earplugs and eyemasks to such events anyway, and in this case it doesn't make a big difference.
It's Day 3. This time I'm starting with the "walkers" because of my finish time on Day 2. This means I'm in the earliest group to start. The "runners" start an hour later, and the "elite runners" start two hours later. Maybe it was the sports massage restoring my quads, or maybe it was the fact that I did as much walking as I did running on Day 2, but my legs felt much better. And since it was the last day, I might as well give everything I have left. Right from the start, I set off running.
The Ridgeway offers fantastic panoramas, also on Day 3. It is particularly beautiful in the early morning. I scare a whole bunch of pheasants which are hiding in the grass on the side of the Ridgeway. Blue sky is now visible, a welcome contrast.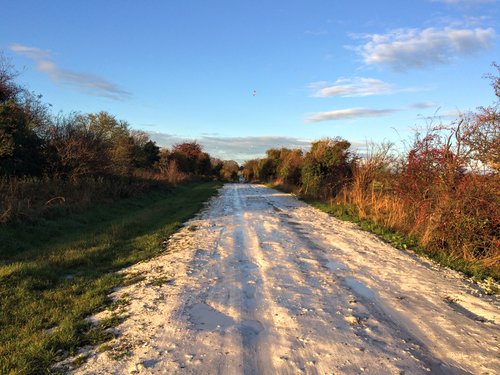 When I stop to fix a blister before it turns into a bad blister, I notice that there was another runner catching up with me. There is no one else in sight. It was good for me to see another runner, it spurs me on to keep running. As usual, I am so hungry at checkpoints that it takes me longer and soon it is me to play catch-up. She is running at a similar pace and we remain within visibility of each other for most of the remaining distance. She saved me from following the Ridgeway instead of taking a right turn down the hill towards the (near) finish. What irony─the only time I would have taken the wrong turn was close to the finish!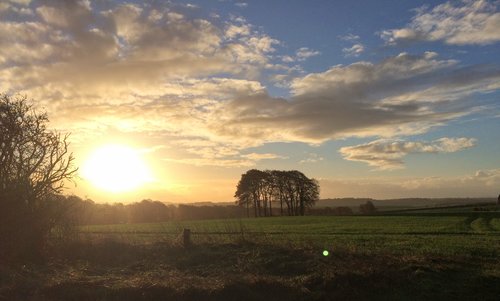 I'm blasting down a steep descent from the hill. The route follows a road section until we get into a town. Once the road takes a turn, I know that it cannot be far to the finish and I increase my speed. At some point I notice there is a fast runner approaching. It is likely Robert Barnes who came first the previous days' and who must have started two hours later than me. I give everything I can, but about a 100 meters before the finish, Robert is flying past me, sprinting seemingly at ease. It's been an honor and fun to compete in a sprint finish with the overall winner─well aware of course that I had a two hour headstart without which that would not have happened!
A wonderful detail about both XNRG races that I have completed so far is the personal welcome you get when coming through the finish─after everyday. This might sound irrelevant but for me the handshake and the "well, done" is just so valuable after many hours of hard work. We must not forget here that the race organisers and the checkpoint staff also puts in many hours of hard work. The Druid's Challenge was a good race.