8. Oktober 2017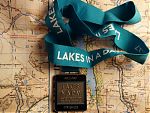 Finally my dream has come true, even though things were different than imagined: A race report of Lakes in a Day, traversing the Lake District in 50 miles with 4000 m ascent.
Not long after I moved to the UK, inspired by my then manager, I set myself to run the Lakes in a Day ultra marathon. This race is advertised as 80 km long with 4000 m ascent and goes pretty much over every hill and mountain you can find when going on a more or less straight path from North to South through the whole Lake District. No wonder, I was tempted.
Yet, at that time, the race approaching, I got cold feet and pulled out. Instead I decided to build up a bit more methodically towards that sort of challenge. This plan worked out fairly well: I managed to complete a few races in the meantime, from Wendover Woods 50 to Country to Capital, and the South Downs Way Devil's Challenge. So in 2017, I should be ready.
Ironically, after signing up for the 2017 edition of Lakes in a Day, due to changes in my work and in my private life, I refocused on a few other things instead of the training that I wanted to do. So for the last three months, I realized a minimalist preparation must suffice. Will it be enough? I shall find out soon.
A few days to go. The weather forecast claims rain, very poor visibility, and felt temperatures close to the zero degree mark. Glad I upgraded my kit with a pair of waterproofs mittens and another insulation layer.
Other preparations include planning for food and accommodation, as I'm going to stay in a tent for the nights before and after race day. I don't want to stay cold or hungry. In with tent and sleeping bag. In with camping stove, tea bottle, in with a couple of bagels for pre-race breakfast, and in with some post-race replenishments. In with a pile of warm clothes to change into after the race, in with the race kit.
When I finish, I'm equipped with too many bags but also the confidence that I'm well equipped, particularly when compared to the little time I ultimately spent packing. I promise myself to avoid checking online what other, more meticulous runners have done. Let's see whether I shall regret this. And as I'm writing this, I'm sitting on a train, and realize I could have brought a towel. A towel would be nice. Too late, let's focus.
I took an earlier train to Lancaster in order to avoid getting stranded / arrive too late if I miss my connection from Lancaster. At Grange-over-Sands, I meet John who kindly offered me to give me a lift to race registration at Cartmel, which is also where the campsite is.
The next morning at 5.45 am, we're transferred by a shuttle bus from the finish to the start. Everyone with a supplied GPS tracker attached, shoe laces tied, seatbelt closed, armrests down, and window blinds up, off we go! Except that the race director calls out my number seconds before the start and asks me to come over. Try escaping a horde of runners who just started and roll over the start line! He got my tracker sorted in no time.
The start is good for warming up. Up we climb High Pike (there's a few of them in the Lake District, but this one is the nearest). The weather forecast was right. It is raining. It is cold. It is windy. We can't see much. But the spirits are high. We stay high up until Coomb Height – some climb the top but the route doesn't require it so I skip the top, and descend steeply from Blencathra along Hall's Fell Ridge to Threlkeld. The ridge is technical and for safety I am using my hands. Further down the ridge, the wind is very strong, and walking becomes decidedly more difficult. I almost lost my waterproof trousers at this point which were "securely" stuffed in my back pack but were removed by the wind.
At Threlkeld, there is the first aid station. Refreshed and cheered up by the great crew, we walk up the steep path up to Clough Head. It is steep, and I curse myself for not having trained a bit more. We visit a few more tops with great names such as Great Dodd, Watson's Dodd, Stybarrow Dodd. What's not so funny about these names is that these are all hill tops that we have to climb in a relentless up and down camel hump sequence.
The visibility remains very poor, making navigation more difficult. The rain is coming in horizontally, so strong are the winds. In good weather, the mountains look like friendly hills, but during adverse weather condition, they look menacing.
After a few more Pikes (including another High Pike) and Crags, whose wonderful names I'll leave to Bill Bryson to comment upon, we finally descend into Ambleside for the second, flatter part of the race. This is my third time in Ambleside, and my third time in some sort of running mission. I'm happy so far & I haven't gotten off the unmarked route yet. While at the aid station in Ambleside, it is getting dark. It is hard to believe that there are still runners behind me in the mountains. I check with a fellow runner: only 20 miles (that's 32 km) out of 50 miles left. Only? I am mistaken as I later find out: my estimate for a good four hours to the finish has been off by a factor of two.
I turn on my headlamp, one of the things in the kit you should not save money on. At first, the remaining route looks "runnable" but after a while, it is mostly trails full of mud, puddles, and more mud. Some runners are able to run in mud, but I only know how to slip in mud. One of the reasons that it takes me eight hours from Ambleside to the finish, not four. It is a mental challenge, walking in the dark, through mud, constantly scanning the ground for treacherous roots that set you up for the next "faceplant", or roots that give you another blackened toe. I know that I will finish, but I also prepare myself for a long walk because there is not much running in here for me.
Another aid station later, one of the marshals cheers me up and reminds me to smile. Only seven more miles left he tells me. I translate: 11 km of further suffering through mud and darkness. In a country which isn't known for having large areas of woodland, I find myself constantly surrounded by wood. How can that be? It is a relief when I get to the last downhill road section before the finish. Having started on Saturday 8 am, after 17:48 hours, I finally reach the finish at Sunday 1:48 am. A slow journey, but completed step-by-step. After the race, I get 4-5 hours sleep before I wake up in my tent in the morning. I am astonished to learn that there are still a few runners coming in. These are the toughest of all, in my opinion!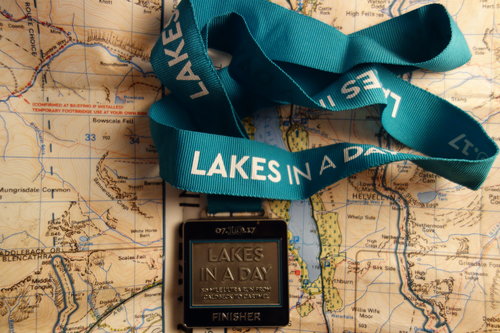 Last but not least, a big thanks to the organisers who had a long day & night as well! And also to Simon for dropping me off at Grange-over-Sands Station.