8. August 2012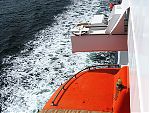 Travelling from Munich to Stockholm by train seems to be a crazy idea at the very first glance. However, coming at a price of 39,- EUR and virtually no baggage limit, I chose to take a 21h train ride on me to Stockholm via Nürnberg, Hamburg and Copenhagen with Deutsche Bahn. While the crowded trains made the journey tougher than expected, I was surprised by getting a ferry-ride for both the Intercity Express and myself.
What happened is that the diesel-run Intercity Express (ICE) I was travelling with, was transported over the Fehmarnbelt in a ferry from Puttgarden to Rødby. Just like trucks and cars. The passengers were asked to leave the train during the ferry-ride – an announcement that was happily received by the travellers on the train.
The exact technical solution behind the boarding process of a whole train remains a mystery to me. The diesel engine simplifies the problem of changing between the on-shore track and the "on-the-ferry" track. But how to connect these tracks properly? The video (not too action-loaded, mind it) indicates: an ICE in a ferry's belly is for real. It does not provide an answer for this mysterious piece of engineering, though. Some info is found on Wikipedia.