22. August 2013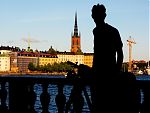 Across Sweden with the bike from the west coast to the east coast? I have tried my luck. Here is a report about the last day – from Torshälla to Stockholm.
Racing through Mälardalen
Encouraged by the sight of signs that indicated how many kilometers were left to Stockholm, I paced forward through the flat and fertile Mälardalen on the quite nice Mälardalsleden. After all, I wanted to reach Stockholm before sunset. The roads were inviting for speeding and, at last, the wind came from the right direction.
The triple feature
Gripsholm Castle was the reason that I cycled on the southern side of Mälaren. But this castle was not the last sight of its kind. The very same day, I passed Ekebyhov Castle (accidentally), and Drottningsholm Palace (on purpose).
Bornsjön, a treasure
I wanted to find a nice path to Stockholm rather than having the last part spoiled by heavy traffic. There was a wonderful road around Bornsjön in the North of Södertälje which then lead me to Norsborg.
Kungshamn – Stockholm includes a ferry ride
In line with previous journeys, I tested yet another way to take a ferry. As opposed to a train on a ferry or a bus on a ferry, I took my bike on a ferry this time. The ferry left at Slagsta and crossed Mälaren to Ekerö where I continued to Drottningsholm.
Final destination: Stockholm
Tired. Satisfied. Stockholm's stadshus. Gamla stan. I called it a day.
Related articles
"Across Sweden from Kungshamn to Stockholm by Bike: Day 5