26. Juli 2017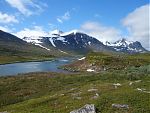 My dream of returning to Northern Sweden for some hiking came true this year. Streams and lakes, puddles and pools, snow and ice, mountains and valleys; orienteering, pathfinding, river crossing, wild camping. Fabulous views rewarded the efforts I put in.
In 2013, I made my first trip to Northern Sweden with friends from Stockholm (http://www.athoughtabroad.com/2013/09/08/akka-from-kebnekaise). It took me nearly four years before I was able to return to the mountains in that region (in Swedish: fjällen).
Monday
This time I have tickets for the sleeper train from Stockholm to Abisko. Abisko is a tourist outpost along the railway line between Kiruna (Sweden) and Narvik (Norway).
Before I board the train, however, I need to do some last minute shopping in Stockholm. I drop my backpack at the central station, and waste an exorbitant 10,- SEK on a fancy toilet facility with fancy TV screens. Off I go to buy a new pair of hiking trousers because the only one I brought felt too light, and not warm enough. The hiking trousers unfortunately add significantly to my holiday expenses, but as I shall find out later, the money was spent wisely. But one thing after the other.
Dressed "like a Swede" and equipped with what I consider enough food for four days, I board the sleeper train at Stockholm Central. I love trains, so I am actually looking forward to the train journey. I share a compartment with six bunk beds; with a family from Shanghai who are now living in Lund and want to drive to the Lofoten islands by car, and with a Swedish couple who are also planning to go hiking. The Swedish couple is teaching the rest of us in the compartment how to assemble the beds.
The train journey will last about 18.5 hours and because the little one of the family goes to sleep rather early, the rest of us is staying outside of the compartment. When I walk to the restaurant car, I am stupid enough to get one of my fingers jammed in a closing doors between two cars. The lady in front of me (mistakenly) feels responsible and we have a chat over a beer in the restaurant car; beer is not only providing some consolation, but I can also use it to cool down my finger. I am wondering whether I will need someone to look after it. That would be more than inconvenient given that my destination is basically the Swedish wilderness.
Tuesday
I generally sleep well on sleeper trains. Also today. I am the last one to get up. While sipping the last coffee for a long time, we come past Torneträsk station. I shall later find out that this rather large building had been used in the past as a transformer station for the railway.
I get out at Abisko Ö. In my sleepy state, I believe this stands for Abisko Island: in Swedish, Ö :=: Island. It actually mean Abisko Östra (Abisko East). Wrong stop. Before the train leaves, I get back on again. 20 minutes of walking to Abisko Turiststation saved. But there shall be a lot of walking to come.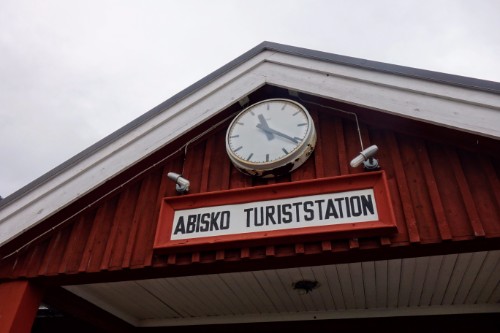 It is mid July, which is still quite early in the season. It is cold outside, and I can feel a slight drizzle. On the train I had made the decision to go from Abisko towards Kårsavaggastugan (a mountain hut) today. There is lots of water everywhere: mud on the trails, streams from melting snow and rainfall.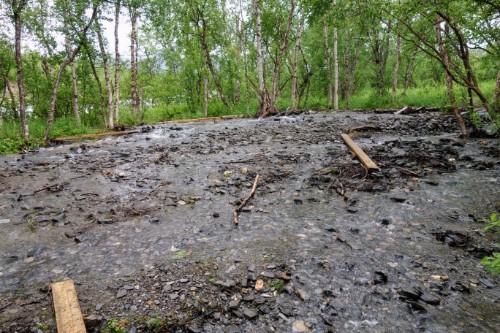 Most people on the train probably stay in Abisko or start walking south on the famous Kungsleden. I meet and overtake very few people on the trail towards Kårsavaggastugan. Halfway I meet Svante, who just completed his work as a hut warden (i.S. stugvärden) and asks me to tell the new hut warden Fredrik when I arrive that "Svante is doing fine". Today's hiking trip in the rain just has gotten a purpose!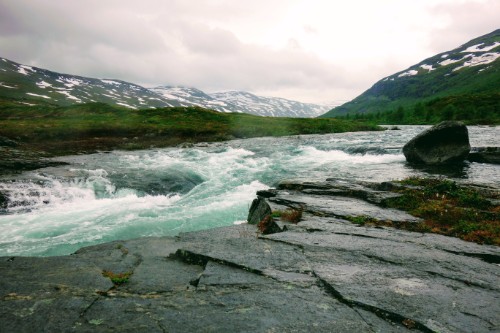 Too much water is not great because my shoes are not waterproof. Quite the opposite. The reason is that I have not yet found proper waterproof hiking boots that fit my wide feet. Soon my shoes, socks, and feet are soaking wet from walking in mud, through puddles and streams.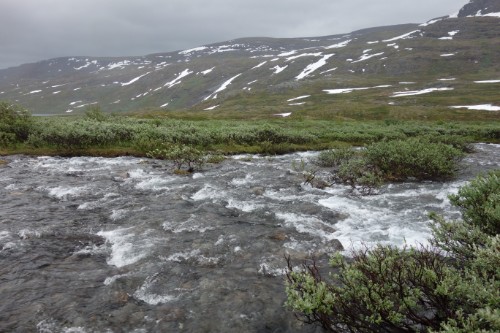 Otherwise I am well equipped for the weather conditions, wrapped in waterproof hardshells and having my stuff safely packed in dry bags. Which is good. In the early afternoon I manage to inadvertently go for a quick swim in one of the streams. I do not realize that there is sand at the bottom where I try to cross the stream: suddenly I am more than knee-deep in the water and the sand (it wasn't too dramatic). I am surprised that I am not soaked, the waterproof hardshell prevented the water from going everywhere. Also I dunked my camera in the water in the course of this mishap, but the camera was well-protected by a dry bag. It pays out to come prepared.
Still, I am not as dry as I would like to and I decide to soon call it a day. Instead of continuing across the mountain to Abiskojaure, I decide to stay at Kårsavaggastugan which is only a kilometer away. And because the weather is still bad, I cannot be bothered to camp outside either and let Fredrik (after telling him that Svante is fine) know that I would like to stay overnight.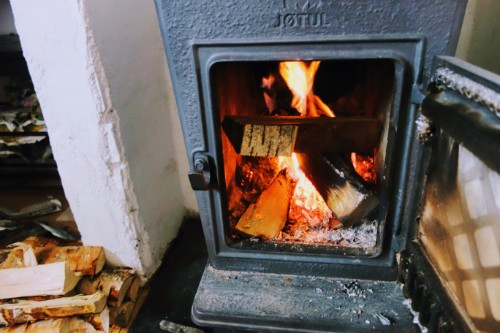 The mountain hut is basic: no electricity, no running water. But it comes with a gas stove, so I save some of my fuel for the camping stove. There are two rooms with four beds each (bunk beds). Also there is a fireplace. You cannot book, so if there are more people than beds, some people have to sleep on the floor. Generally, nobody will have to sleep outside in the rain. I offer the warden to put up my tent if it gets crowded.
Still early in the afternoon, two guys from Stockholm arrive. Aaron and Victor also happen to plan to go to Abiskojaure the next day, same as me. Which is great because I strongly prefer to have company when crossing mountains. There is lots of time left, which I spend to make some progress in reading the biography of Charles XII (i.S. Karl XII).
Wednesday
The weather has improved ever so slightly in the morning. Still clouded, though. We leave the hut and immediately start crossing the river where it is the widest, and where a flag marks the recommended. This is the smartest way of crossing a stream: look for where the current is weak, where the stream is wide, and where the stream splits. Even smarter when you have a walking stick such that you can always have two points on the slippery stones while wading. There were wooden walking sticks you could take and leave on the other side, but we thought that we would make it without (not so smart, but we manage). It takes us maybe 10 minutes to get to the other side. Since the water is at about 4 °C (the hut warden measured), it feels good to warm up our feet.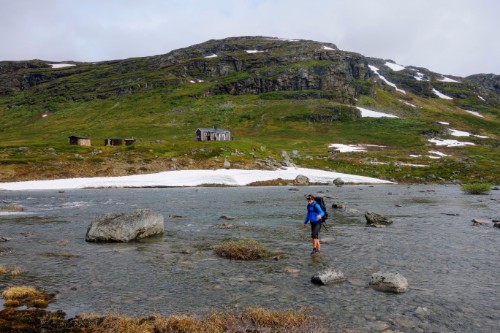 We start walking up the mountain. The trail is marked by stones piled up. We see reindeer, both when walking up and when walking down. There is quite a bit of snow left.
When we arrive at the top, there is no good view as it is still clouded. Also I regret not having brought my winter gloves instead of my lighter sport gloves. By the time we descend, it is however starting to get sunny.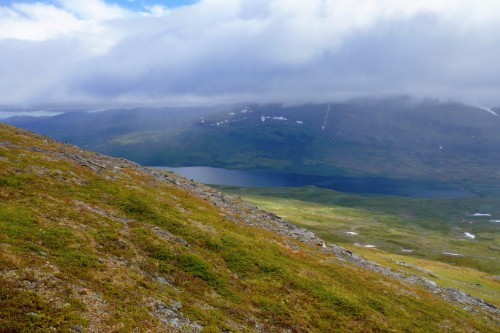 We celebrate our arrival at Abiskojaure Fjällstation with chips and chilled beer (they have a fridge to my surprise). Technically, it's a bit of cheating. I can no longer say I have sustained myself during the hiking trip. Anyways, I am not trying to prove anything to anyone. Just being on vacation after all.
I decide to continue with my original, original idea which is to complete a loop, either through Lapporten or to Kaisepakte. This will take me at least 1.5 days from Abiskojaure, more likely 2.5 days. Since there is a chance that I am unable to follow the path because of snow, water, terrain, or other issues, I will always have to account for the possiblity that I have to turn back to Abiskojaure.
I bid farewell to Aaron and Victor and continue south on Kungsleden. After having seen only three people in the morning, Kungsleden feels like a festival on this part (still, not so many people). I pass what STF calls Bunkerhöjden, remains of an old fortification against German forces in case of an invasion across the Norwegian border in World War II. I don't inspect it more closely.
Once I turn eastward, I see no more hikers walking on the trail. The only sign I see is what must be fairly recent footprints. And no one coming my way. That must mean that whoever walked in front of me has not turned back, and likely there are no obstacles that prevent me from continuing.
Only when I camp, I see some people a few hundred metres away. They are obviously also camping. I put my tent in a spot somewhat shielded from the morning sun, somewhat protected from wind, and on a dry, flat, and soft spot. Almost perfect. In principle, I could continue walking as it does not get very dark at night around this time of the year. My headlamp is useless dead weight in my backpack. But I am tired.
As dinner, as always during this trip, I cook a huge portion of pasta (i. S. snabbmakkaroner) mixed with some powder soup. The best mix I bought was clearly Knorr Goulash Soup. Not a culinary highlight but if you are hungry, anything goes. For breakfast I have planned porridge made with water, enhanced by massive huge of honey and raisins. During the days, I just frequently snack dried meat, sweets, nuts, chocolate, and cereal bars.
I am applying principles that are familiar for those involved into Site Reliability Engineering. I have multiple waterproof matchboxes, and a lighter for redundancy. If I cannot operate my camping stove, I cannot prepare a lot of the food that I have brought. Which would be sad. However, I only have a single fuel bottle, so that is a single point of failure. I have to be extra careful when opening the fuel bottle to not spill any of its contents.
Thursday
It is the third day. For several kilometers, and for several hours, I see no one. I still see footprints. Today's destination is Lapporten, an iconic U-shaoed landmark created by two mountains with very steep edges.
I carefully compare the territory with my map, identifying the individual mountains that I can see. It is important to know where you are on the map in order to not get lost. Once you're lost and do not know where you are on the map, it is very difficult to benefit from the map. So frequently checking agreement between compass, map, and what I see is important.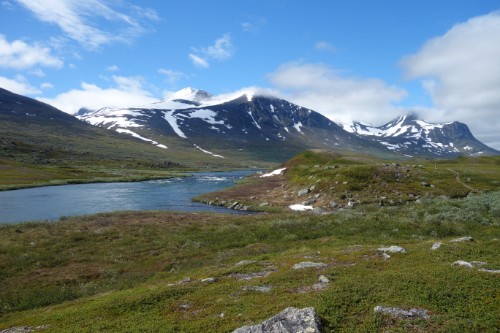 The terrain is difficult again. Lots of water, snow in places, and thick vegetation. I am glad that I bought sturdy hiking trousers that allow me to charge through the vegetation without danger of getting scratches everywhere on my legs.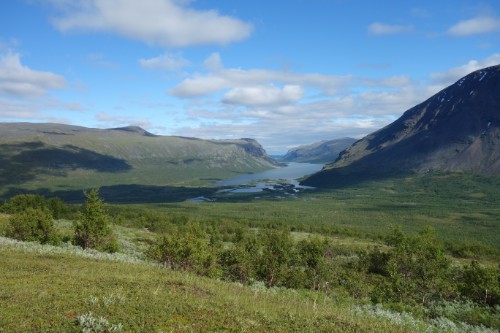 In the afternoon, I meet the first person in the whole day. He tells me that I should have brought a walking stick, and I am pretty certain that he disapproves of my choice of shoes as well. He is hiking in wellington boots, which itself I find an interesting choice. But quite sensible given the amount of water and mud on the trail. He tells me that he met three Finnish guys that are in front of me. Then, shortly afterwards I meet another hiker who came from Lapporten, and another two hikers coming from Kaisepakte. Now I know that my path to Abisko is very likely open.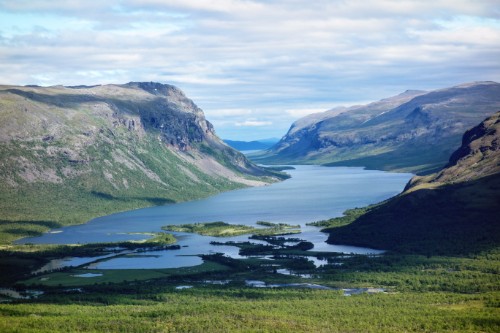 However, all three warn me of roaring rapids (i. S. brusande fors) coming up that I cannot cross where the trail meets them. And they are right. There is no chance to safely cross the river at the point where the path meets the river. Instead I follow their advice (and generally good idea) to walk upstream until a suitable place comes up. This is where I catch up with the Finnish guys whom I spot on the other side of the river. They wave to point me to a good spot where I can try to cross. The river is wide here, much slower, and there are no rapids nearby so even if I slipped I would only get wet. It's challenging because of the many slippery stones, and because I do not have any walking stick. I make it across and the guys are wondering about why I don't change into other shoes. I can only shrug with my shoulders and explain that with my sort of shoes, water gets in, and water gets out.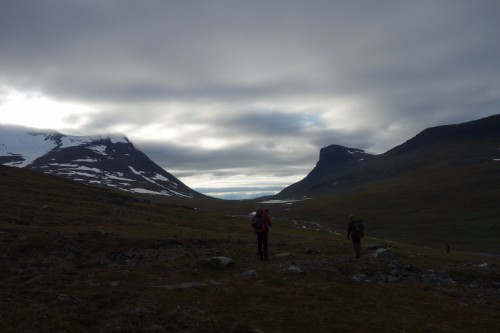 The three guys – Hannu, Mika, and Ville – also want to go to Lapporten. They invite me to join their company for the rest of the day. As there is no longer any marked trail, we have to navigate with map and by what we see. The three hikers are capable navigators, and I agree with their choice of route. We put up camp in with a view through Lapporten.
Friday
Woken up by the morning sun heating up our tents, we prepare our porridge. Hannu, Mika, and Ville have kindly agreed to let me accompany them when hiking up the eastern mountain of Lapporten. I would not do that by myself, so it is a great opportunity to have company. The weather is sunny, and we enjoy great views.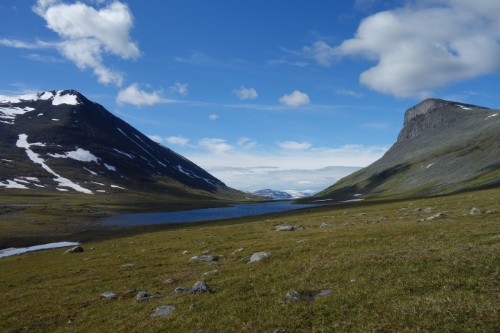 Again, there is no marked path, so we have to see whether we are able to follow the route that we sketched by looking at the mountain from below. It is not so easy to actually follow the route later, because when you are walking up, you are too close to the mountain to see exactly whether you should walk up first, or maybe walk across first.
The top is a plateau, which is almost disappointing as it obstructs the panoramic view. But then the panoramic view is absolutely outstanding. Despite of the mountain being not among the highest in the region, we can see quite far: Abisko and large parts of Torneträsk are visible, and so is the mountain ridge that I crossed on the very first day.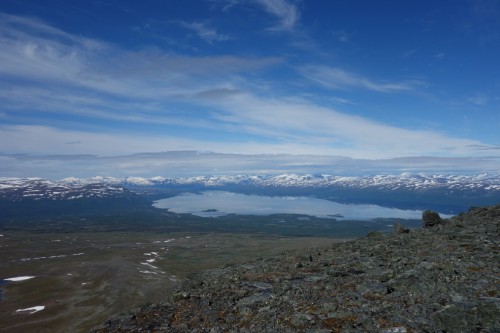 When we come down again, there is a lot of time left in the afternoon. This is the time for a bath. Unfortunately and somewhat ironically given all the experience with the water so far, the nearest stream is not very deep. Still, it is refreshing and it is nice to be clean again. I am even able to wash some of my clothes, which dry easily during the rest of the sunny day.
Saturday
After the seccond night at Lapporten, it is time to return to Abisko. Hannu, Mika, and Ville have already disappeared, I'm not sure what they were planning. My food reserves are almost depleted, so in any case I would return to camp. I still have one bag of mixed nuts and a jar of peanut butter. These can get me quite far if necessary. The remaining section is about 10 kilometers gently downhill. Apart from water being an obstacle again, this is an easy walk. Yet, I am tired from the previous days and I really look forward to walk into the supermarket at Abisko.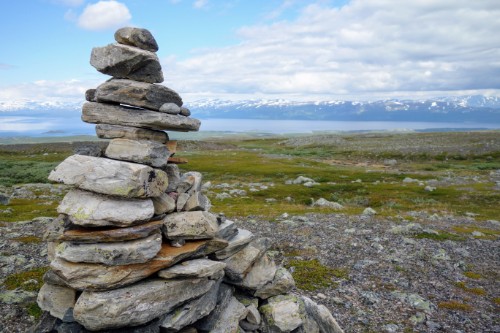 This night I stay at the campsite of Abisko Fjällstation. A shower with warm water, and only a 20 minutes walk to the supermarket! Although this benefit costs me 100,- SEK. In the supermarket, I buy the darkest bread that I can find in the supermarket, vegetables, fruit, jam, cheese. This might sound like a simple meal to you but is a feast after more than four days of a very one-sided diet.
Sunday
Last day. I am having the best breakfast of the week, and spend the rest of the day doing easy sightseeing. I inspect the canyon near Abisko Fjällstation.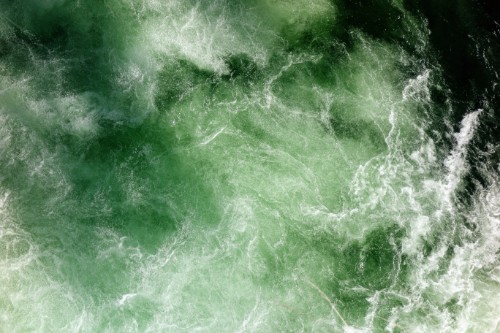 And I walk up a a bit to have a view on Torneträsk. Again, the weather is amazing.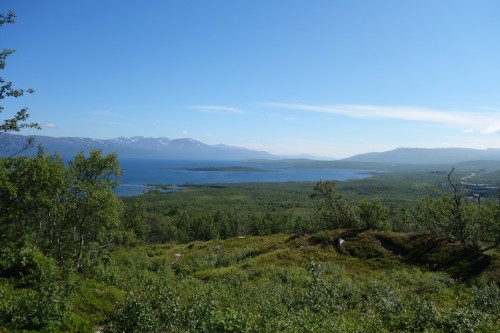 I take pictures of various commonly found flowers and plants.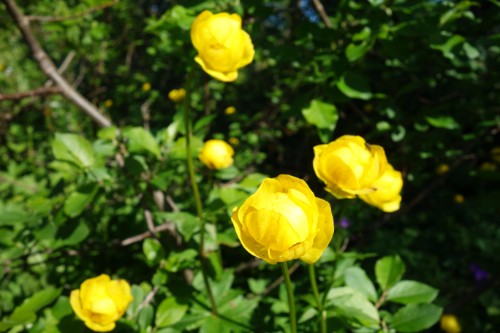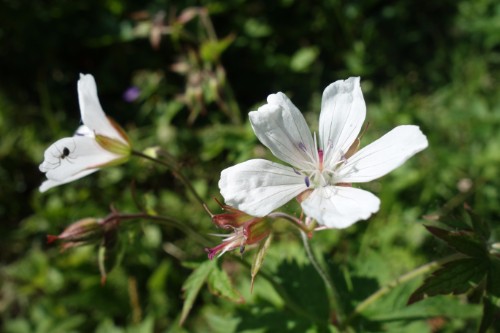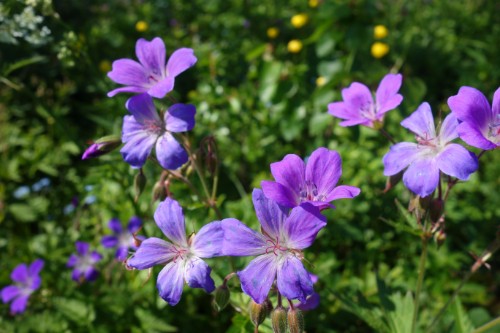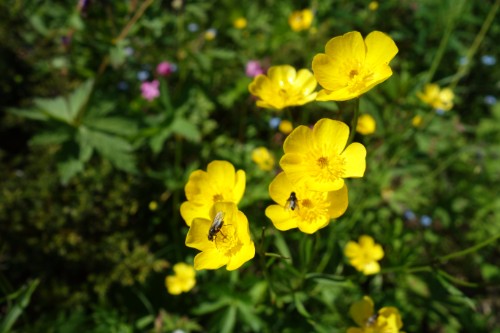 It is time to leave. I hop onto the sleeper train where we share some stores from our hiking trips in our compartment. It is time to leave the wilderness and get back to what we call civilization. Only about 18.5 hours away.