11. August 2013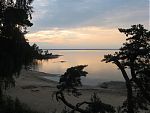 Across Sweden with the bike from the west coast to the east coast? I have tried my luck. Here is a report about the first day – from Kungshamn to Vänersborg.
A lot of questions were open before I began my journey at Hovenäset near Kungshamn. Will the bike work without any problems? After all, it had been disassembled and reassembled to various extents for transport. Will there be suitable roads? Will it be easy to find nice places for setting up a tent? And so on and so forth. All these questions were likely to be answered on the first day.
Safety first
The trip started at Hovenäset on a road with heavy traffic and no bicycle path. Clearly, at the beginning of a new calendar week, many people were coming to or leaving Kungshamn. Hence, my reflective vest turned out to be very useful right from the start. On the road from Askum to Tossene, it became apparent that there are also quiet, lonely roads with almost no cars – which restored hope regarding the traffic situation.

The bicycle pump that does not suck
With all the baggage, the bike was heavier than usual and I decided to pump more air into the rear tire. What is so special that such a detail needs to be reported? Well, with some bicycle pumps that do not perfectly fit the valve there is the danger that all air vanishes in the attempt to inflate the tire – which is very inconvenient in sparsely populated areas. However, there was nothing to worry about with my pump, which has a retractable hose that can be fastened tightly on the valve.
North Sea at Saltkällan
Shortly after leaving Munkedal via a beautiful suspension bridge, I left the bicycle path along Uddevallavägen in order to take a bath in the North Sea at Saltkällan. Saltkällan is located at the end of a fjord. The detour to Saltkällan is highly recommendable. There were two possibilities to continue to Uddevalla – returning to the bicycle path along the E6 motorway or continuing the detour via Skaveröd and Skredsvik. I chose the latter which resulted in a nice scenery and the sight of goose but cost a lot of time.
Through the countryside from Uddevalla to Vänersborg
In Uddevalla, I found out that the bicycle maps are of little value in urban areas. The scale of the maps was not large enough to include street names. Here, using the mobile phone speeded up the navigation through Uddevalla considerably. I passed Bjursjön which would have been a great place to stay for a night if I were not heading for Vänersborg the same day. An exceptionally nice and almost car-free experience followed from Bjursjön to Vänersborg – only interrupted by the scary sight of a burnt-out car, a burnt-down house and police tape near Lane-Ryr (article in Göteborgs Posten).
Perfect tent site at Gaddesanna
Having started late in Hovenäset, I also arrived rather late in Vänersborg. A glimpse into the old town raised expectations but I unfortunately did not spend much time in Vänersborg other than buying supplies for dinner and breakfast. With luck, I found a beautiful tent site below conifer trees in Gaddesanna, overlooking Vänern. A beach with fine sand was inviting for a chilly bath in Sweden's largest lake.
Related articles
Across Sweden from Kungshamn to Stockholm by Bike: Day 1