9. Januar 2013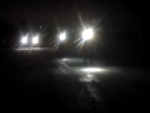 Getting the better part of the nordic winter: An ice-skating tour in the darkness from Norrviken to Brunnsviken, The evening was rounded off by some beer at Karlaplan. What else to expect from live?
This evening, I thought about my blog series about Swedish in Sweden (1, 2, 3, 4, 5, 6). I stated that learning Swedish is worth it – even though you have to wait for the deferred gratification. The ice-skating tour with SSSK today was such gratification, a wonderful tour starting on Norrviken near the commuter train station in Rotebro, passing on over Edsviken, along Brunnsviken facing the Naturhistorika Riksmuseet, and ending at Universitetet södra.
However, skating on the ice took some efforts due to 2-3 centimeters of snow, which made the 17 kilometers seem longer than they actually are. The awesome but quite tiresome tour ended in a pub near Karlaplan where the evening was crowned with some Nordic beer, bread, butter, and entertaining geek talk about everything concerning ice-skating. A mostly acoustic sample below.
One of the reasons that I post this tour description is that tour skating is an almost completely unknown sport in Germany.
Important disclaimer for the web: going on the ice is potentially dangerous and without someone who knows the ice an unjustifiable risk.